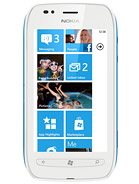 Looks like the long wait for the first Nokia WP7 phone will soon be over. According to an article over at
MobileSyrup
, the first Nokia phone that will be making their mark on Canadians will be the mid-ranged Nokia 710 (yay!.. with a bit a sarcasm of course). From the articles I have read over time at MobileSyrup, they are actually very accurate with a lot of their posts (unlike BGR and Gizmodo who like to pull a lot of BS out of their collective asses).
Their article goes on and read that the Nokia Ace (or the Lumia 900) will follow soon after the Nokia Lumia 710's debut with no mentioning of the Lumia 800 (which is a little bit disappointing)
The Lumia 710 have the following hardware spec (no pricing information yet)
Processor: 1.4 Ghz Single Core CPU

Screen Size: 3.7, LCD

Camera: 5MP

Front Camera: No

Weight: 126g

Battery - 1300 mAh

User memory - 8GB
The Lumia 900 (or Ace) have the following hardware rumoured spec (we will likely have more information on this next week at CES)
Processor: 1.4 Ghz Single Core CPU

Screen Size: 4.3, AMOLED

Camera: 8MP

Front Camera: Yes

Weight: 160g

Battery - uncertain but it's likely going bigger than the one found in the Lumia 800 (> 1450 mAh)
User memory - 16GB
Most interesting thing here: 3G Pentaband which means 850/900/1700/1900/2100
As some of you WP7 knuckle heads already know, T-Mobile is launching the Lumia 710 in the next couple of weeks in the US. Being on the TMobile USA network means that there is a big potential that we may finally see some WP7 love on the smaller national networks such as WIND and Mobilicity.
The news of the Lumia 900 having Pentabands also means that there could be a slim chance that the smaller national carriers may be able to use it as one of the flagship phones besides the Galaxy Nexus.
Source: fine work from the people at
MobileSyrup