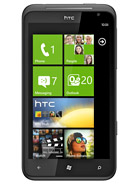 *WARNING* Stay the hell away from buying this phone from NCIX if you want to use this on ANY 3G networks in Canada.
Don't care about 3G? Then read on...
That fun and wacky online computer store NCIX.COM should be very familiar to a lot of folks in BC and some folks in Canada.
NCIX.com is currently selling the HTC Titan on their
website
for a cool $739.99 Cdn. If you are interested in using with any kind of 3G speeds in Canada, you are out of luck as this lacks both the 1900Mhz (for you Rogers/Fido/Telus/Bell folks) and 1700Mhz (Wind/Mobilicity folks) so really, if you are crazy enough to get this, you are going to be stuck on the GSM bands (quad band).
So if you are that desperate for this piece of 4.7" inch of WP7.5 awesomeness, you can get your taste of the HTC Titan now. I guess if you just want a GSM quad band WP7.5 phone like right now, and you don't care about data plans because WiFi is where it's at, you could pick this up now as it is unlocked.
I'd rather wait for the carrier subsidized ones.
*UPDATE*
Turns out NCIX is not full of crazies..
amazon.com
is selling for $799.99 US