As some of you might know, MWC happens every year around this time where pretty much all the big mobile phones vendors (except Apple) gets together in Barcelona and have a great nerd off.
This year, I was looking forward to it as I personally am looking to replace my HTC Surround (still like it a lot) with likely a Nokia Lumia 800 or 900.
Nokia
We already know
when the 800
is launching in Canada. We found out that Rogers is going to release the 900 sometime *soon* in CES 2012 in January but there was no date, nothing.
Well, looks like we can now narrow it down the a month.
April
is the month and over at the Rogers website you can also sign up for launch information.
The promotional blurp also states "When you pre-order a Lumia 900, Nokia and Rogers have a surprise for you. Hint: there's a hero rising out of the darkness" Likely this thing (the video is a Video of the Lumia 800 but you get the idea).
It's either this or Christian Bale deliveries your phone to you personally and then follow by punching you in the face. (The second option does sound interesting for some reason)
So head on over to
Rogers to sign up for launch information
Lumia 610
Also new and it is unlikely to see here in Canada is the Lumia 610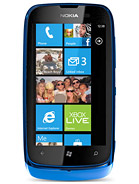 This is significant as this is the first "Tango" phone which runs on lower spec hardware which means that it is going to be unleash in emerging markets
The Tango spec supports 800Mhz CPU + 256MB RAM in case you are interested
Given the low low price of the 710 right now, I don't think we'll be seeing this phone in Canada anytime soon
HTC
- HTC has announced that the HTC Titan II will be expanding to markets outside the United States. This LTE device will likely finally see the light in Canada sometime. No timeframe is given
- HTC has also announced that they will make a bigger splash in the WP handset when Windows Phone "Apollo" is released (Windows Phone 8.0)
Samsung
- I personally think Samsung is gone off the bonkers lately with the releases of the Samsung Note (Android in case you are wondering) - 5.3 inches!!!!
- no news on Samsung WP75 coming to Canada.