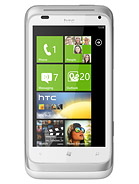 Looks like WIND is finally going to start selling their first ever WP7 handset.
Their first (hopefully of many) WP7 handset will be the HTC Radar - which interesting is the first gen 2 HTC WP7 handset that will be available in Canada.
No pricing information available yet.
You can sign up and be the first to know about the release date and pricing information.
Here are the specs in case you are wondering:
Processor: 1 Ghz Single Core CPU
Screen Size: 3.8", Super LCD
Camera: 5MP
Front Camera: Yes - VGA camera (that's 640x480 for you young kids)
Weight: 136g
Battery - 1520mAh (not replaceable, at least not without taking the phone apart)
User memory - 8GB
Source:
WIND